Rrampt Magazine Reviews The Thought of Tomorrow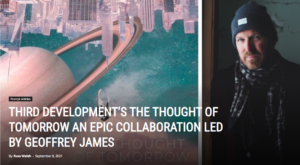 Russ Walsh from Rrampt Magazine reviewed our debut album, The Thought of Tomorrow
Excerpt from the article:
The idea of being "chill" might have been lost on a lot of us over the last year and a bit. Even during resting periods at home the lingering thoughts of fear and the future weighed heavy. Luckily Geoffrey James, founder of musical project Third Development, is here to help us unwind and remember over the course of 9 tracks.
On The Thought Of Tomorrow, the collaborative project's debut album, the group literally breaks borders to spread their message of "optimism to the world in the face of life's uncertainties". The album begins with the title track and features UK vocalist Kintsuku, "Don't know where I'm going/ but I know that I'll be free/ running from the same old things/ will be a distant memory", she sings over 80's inspired ambient synth before a minimal, hypnotic beat comes in really tying the track together and helping set the tone.
Read more here.